Be prepared to have a great beard day, every single day with the "Every Day's a Great Beard Day" Sticker! This ultra-durable sticker is weatherproof and water proof.  You don't have to worry about it peeling off in the rain or getting splashed when you're out at the beach.  Show your friends that your days are all great no matter what with this witty and fun sticker.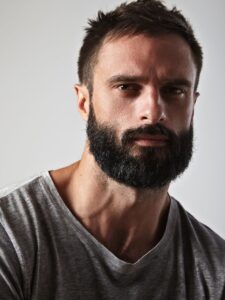 Pin
It's perfect for sticking on:
your water bottle,
phone
laptop
pretty much anywhere!
But that's not all – obviously with an awesome sticker like this one, you've got to back it up with something equally as awesome. That's why we make Beard Oil that smells amazing and can help keep your facial hair looking great for any occasion.
Our men's soaps and solid shampoo bars were created under Susan's experienced hand and are totally natural – only the best for our bearded brothers! So come join us in celebrating every day as a great beard day!
NOTE:  Shipping cost for just a sticker (or stickers) is $5.00 shipped via USPS First Class.  However, if your order includes products other than stickers then our regular shipping charges will apply.
Sticker Size:  2 1/4″ wide x 3 1/4″ high