Bodacious Body Oil is available in 4 different essential oil scent blends as well as unscented.
Our Bodacious Body Oil is scented with essential oils for awesome aromatherapy benefits while also doing the best job ever of moisturizing your skin.   The essential oils are in a base of safflower oil which is moisturizing without being too heavy.    This is a light oil that absorbs quickly into your skin without leaving you feeling sticky or greasy.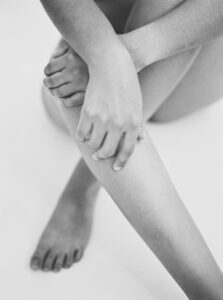 PinWe offer our natural body oil in the following scents:
Almond – Almond lovers this one is for you!
Frankincense & Myrrh – Susan's personal favorite.
Lavender Sage – Best Seller.  Earthy, lavender scent.
Lemongrass – Fresh, clean scent.
Unscented – Perfect for super sensitive areas or if you just don't want a scented oil.
You can also find these same scent blends in our soaps and body scrubs if you are looking to layer your skincare products. 
How to use Body Oil?
Susan likes to use this right out of the shower or before bed.  Just pour a little into your hand and rub on your legs, feet, arms; or wherever you need it.  Soothe and moisturize your dry skin with an all-natural moisturizer that smells irresistible or reach for the unscented if that is your preference.
This body oil is our lightest moisturizer, so it is what Susan uses it year 'round.  One of our customers shared that they even put a tiny bit in their bath water.  Love it!!  It's bodacious!!! 🛀
Not Sure What Scent is For You?
Order our Natural Skincare Samples Pack!   You get samples of all of our Body Oils, Face Serums, and Beard Oils.  We want you to be happy with what you choose so grab the Skincare Samples Pack if you aren't sure.
We originally designed this for prospective stockists who aren't sure what would work best for their store and their customers.  We get it.  It's hard to plunk down money for that opening order when you have never even smelled the scents.  Eliminate the uncertainty and experience our products prior to purchasing.
Ingredients: Safflower oil and essential oils.
Net Wt. 8.2 oz.