Lemon Zest Soap may be the most refreshing thing you'll ever feel on your skin.
Brighten your day with this citrusy soap! It doesn't just smell fresh – it's naturally fresh, made with lemon and lemon eucalyptus essential oils.  It smells great and feels good with the added exfoliating coconut shred to give you that bit of extra scrub without any unwanted chemicals or artificial ingredients.  Dare to zest up your shower and get some brightness in your life today!
Lemons, one of the world's most popular fruits, might do more for you than just make your favorite lemonade. Our Lemon Zest soap is not just natural but is one our many vegan products and handmade by us right here in Texas.  Lemons are one of the world's most popular fruits and the essential oil really cleanses your skin and leaves it feeling clear and bright.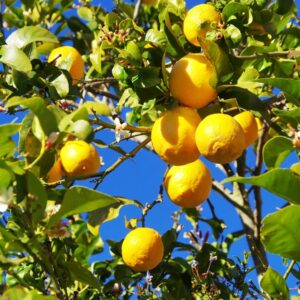 Pin
Lemons might do more for you than you think.  Various studies have shown lemons to be helpful for:
Acne
Depression
Boosting Immune System
Lowering Stress
So if you're looking for an affordable way to take care of your whole body, try washing away your cares with our Lemon Zest Soap!
Ingredients:  Ingredients: Soybean oil, water, rice bran oil, coconut oil, sodium hydroxide (lye), lemon essential oil,  pettigrain essential oil, lemon eucalyptus, rosemary essential oil and shredded coconut. Net wt: 4 oz.
Looking for more citrus products?  Check out our Grapefruit Sugar Scrub, Orange Clove Soap or Lime & Sage Soap.