Soap with geranium essential oil is great for women!
This soap with geranium essential oil is our most floral blend, except for our Rose Milk Soap.  It has a pink clay swirl and a small amount of oatmeal to make it gently exfoliating.  Egyptian Rose is a really pretty soap with its pink and white coloring and in many ways may be one of our most feminine soaps.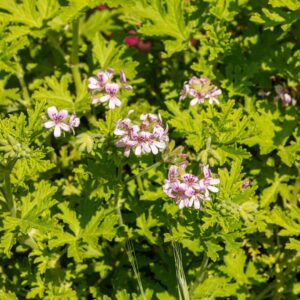 PinGeranium is a fabulous essential oil with many beneficial qualities.
 Get radiant glowing skin.

Improving your mood.

Great for mature skin.

Very balancing for women.
Why Buy This Soap?
If you like floral scents you will like this
Pretty with its pink clay swirl
Great essential oil blend for women
Vegan
Chemical & Cruelty-free
If you enjoy this soap you might want to try our Susan's Own Face Serum as it has many of the same essential oils and even more direct skin care benefits.   
Ingredients:  Soybean oil, water, rice bran oil, coconut oil, sodium hydroxide, egyptian geranium essential oil, sweet orange essential oil, ylang ylang essential oil, cananga essential oil, oatmeal and rose clay.  Net wt: 4 oz.