Doesn't everyone want a smooth, glowing complexion? Using face scrubs helps give you that beautiful skin you want in a way that still gives you a super simple skincare routine. Read on for all the deets!
We have been making our face scrubs for almost as long as we have made soap. It started as a way to use up extra soap scraps but has proven to be popular with our customers. Today people are even more familiar with the concept of exfoliating. That makes scrubs of all kinds more in demand.
The Best Face Scrubs are Natural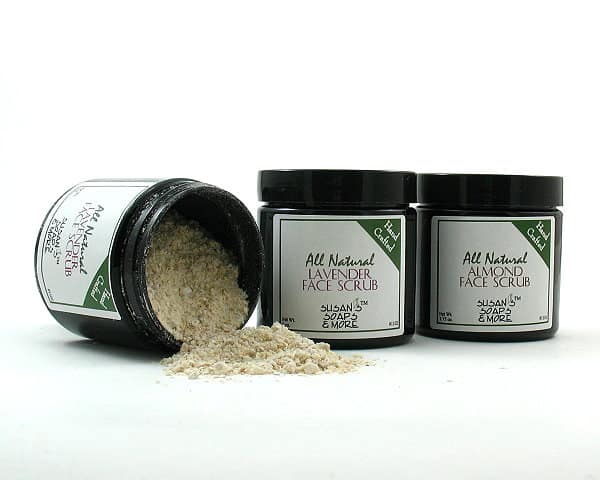 Natural skin care products tend to work best on all types of skin. Oily skin. Acne-prone skin. They are best for sensitive skin and also dry skin. We don't use any chemical exfoliation in any of our scrubs, just physical exfoliators.
We make two different scents of scrubs for your face – Almond and Lavender. They are created from either our Almond or Lavender Oatmeal soaps. The soap is ground up with additional oatmeal added. A small amount of cornmeal is also added to the mix along with the appropriate essential oil.
The soap is still there so that the scrub cleanses, but the oatmeal also causes it to gently exfoliate. We believe that gentle exfoliation is much better and safer for your face than a coarse scrub. You will still get softer skin and slough off dead skin, but without the worry of possibly tearing or injuring your skin.
Exfoliating is About More than Dead Skin Cells
Exfoliating does all kinds of wonderful things for your skin:
It improves the skin texture
Exfoliating gives you smooth skin
It helps to do away with clogged pores
It does remove dead skin cells but also improves skin tone
Exfoliating also helps to improve the circulation under the skin which benefits all skin types.
How to Use Our Face Scrub
In this short video, Susan walks you through how to use our facial scrubs.
Super Simple Skincare Routine
I don't know about you, but I don't have time for an involved skincare routine that takes a lot of time. I believe in using natural products that work and don't take a lot of time to use! So here is my suggestions for a super simple skincare routine!
Step 1: Cleanse your face. I recommend either our Carrot Seed Complexion Bar, Milk & Honey, or Lavender Chamomile Soap.
Step 2: Moisturize your face. I recommend one of our two Face Serums.
Follow Step 1 and Step 2 every morning and evening. Twice a week substitute our Face Scrub for the soap which will both cleanse and exfoliate.
That's it! I have been living this super simple routine for over 20 years and age 65 still get people who don't think I qualify for my senior discount!
Shop Face Scrubs & More for Beautiful Skin
Ready to move forward with getting the best for your face care? Here are direct links to the products Susan just demonstrated for you. We also put in our other Face Serum if that is your preference. You can order the products individually or choose one of the subscription options and save!
In Summary
I hope this has convinced you that having a facial scrub as part of your skincare routine is a good thing. Regular use of exfoliating face scrubs helps unclog pores and perk up dull skin. No matter your skin type you should benefit from soft and smooth skin.
Particularly if you have dry, sensitive, or mature skin make sure to choose a natural scrub that is not too rough. You want to leave your skin feeling refreshed and glowing, not irritated or scratched.
Your skin is your body's largest organ and your face is what people see first and how you communicate with others. Switching out our exfoliating cleanser to your skin care routine won't take extra time since it cleanses as it exfoliates.
Keeping your skincare routine simple helps you stick to it! Going with natural skin care products makes you feel better and look better! Now go out and have a great day!
More from our Blog
You might be wondering if it is worth spending more money on conditioning shampoo bars when you can get by with liquid versions. The answer: absolutely! Solid shampoos have tons of advantages over their bottled counterparts, not the least being that they're much easier on your environment since there's no need for plastic bottles or…
Let's talk about why self-care is crucial for happy skin. Taking great care of your skin goes beyond just looking good – it's about keeping your largest organ healthy and functioning properly. Did you know that your skin plays a vital role in protecting your muscles, bones, and internal organs? It's like a superhero cape…
Continue Reading Self Care for Happy Skin – 4 Reasons to Do it!
Want to stay in the loop? Don't forget to sign up for our newsletter with the link at the bottom of the page. Or take our quiz and find out the essential oil group that works best for you.