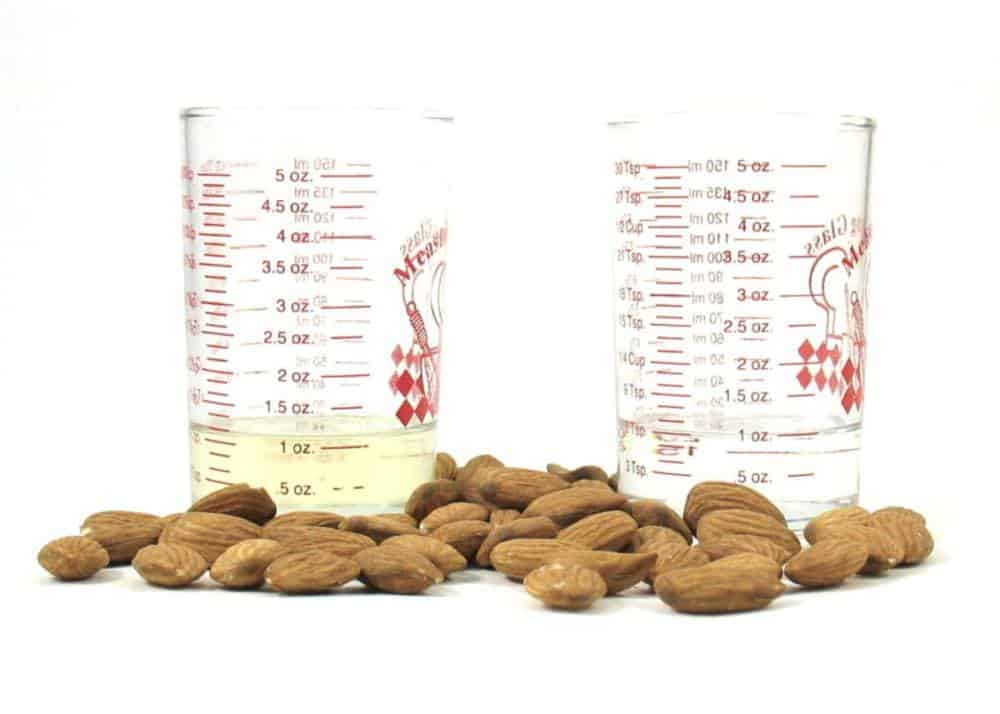 What is the difference between sweet almond oil and bitter almond oil? Sweet Almond is a fixed oil while Bitter Almond is considered an essential oil.
That is the short answer but, there is a lot more to it than that.
I want to help you understand more about them and how we use them. Because they are indeed very different.
Note: The image here shows a vial of sweet almond oil on the left and natural benzaldehyde (which can be derived from bitter almonds) on the right. Edible almonds (sweet almonds) surround both jars.
Sweet Almond for Skin
We use refined sweet almond oil or what you may think of as regular almond oil in our most delicate product; our Face Serums. Both Anti-Aging and Susan's Own each have their own unique blend of essential oils to benefit particular skin types or conditions. They do not smell like Almond at all even though sweet almond oil is used as their base oil.
To use either of our Face Serums:
Wash your face, perhaps with our Carrot Seed Complexion Bar and pat dry.
Tip about 5 – 6 drops of face serum onto your fingertip and smooth over face.
That's it, but it's a ritual I follow every morning and evening.
Bitter Almond for Scent
How They Differ for Internal Use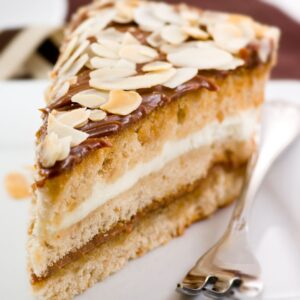 Sweet almond has many culinary uses. Many of us eat almonds on their own or roasted with various seasonings.
French cuisine uses almond extract in macaroons, marzipan, nougat, and almond butter. Pakistan and India use them in curries and China uses them in a favorite dessert, mixed with milk and served hot.
They can be made into a milk product similar to soy for those who are lactose intolerant or vegan. Almond flour is gluten-free and contains almost no carbohydrates. You can now find many products on grocery store shelves using almond flour for this reason. The popular Keto diet of today makes extensive use of almond flour.
Bitter almond liqueurs are produced in Portugal by the name of Licor de Amêndoa Amarga. Many people like Amaretto, myself included which is an almond-flavored liqueur. Disaronno and luxardo amaretto can be consumed as an aperitif or used as a flavoring ingredient itself.
Sweet Almond Oil for Skin Care
The two oils are very different from a skincare perspective as well. Sweet almond oil is an excellent carrier oil and has many health benefits for sensitive, dry skin. Often massage therapists and estheticians use sweet almond oil with their clients because it is so easily absorbed.
Sweet almond oil is primarily composed of olein and also contains linoleic acid and glucosides. With its high level of protein, vitamins, and minerals it is nourishing and revitalizing. We use it as the carrier oil in our Susan's Own Face Serum and Anti-aging Face Serum. Sweet almond oil is one of the most versatile, multipurpose skincare oils available.
Benefits of Bitter Almond Oil
Bitter almond oil as mentioned before is an essential oil. It is not appropriate for any direct skincare use. Its usefulness is simply for its wonderful almond scent or flavor. Bitter Almond also doesn't have any aromatherapy benefits like most of the essential oils we use. Lavender, for example, has a wonderful scent as well as great skincare benefits.
We use Bitter Almond simply because our customers love the way it smells. You can find that luscious bitter almond scent in our Almond Oatmeal Soap and Almond Salt Glow. We also use it in our Almond Body Oil and Almond Lotion Bar. The Bitter Almond we use is a food-grade product that is 100% benzaldehyde and contains absolutely no cyanide. It is natural and completely safe.
Summary of the differences between sweet almonds and bitter almonds
Sweet Almond oil is moisturizing and good for dry and sensitive skin. It has numerous benefits including being great for massage and face care. As noted above we use it in our Face Serums because its fatty acids benefit the skin cells with moisture retention as well as help to prevent the adverse effects of premature aging.
Bitter Almond oil (or natural benzaldehyde) is an extract that provides a wonderful scent and/or flavor.
Read the ingredient labels of the products you are purchasing. Then make your purchase decision based on your own needs.
For example, our Almond Oatmeal Soap smells wonderful but it's the oatmeal and rice bran oil in it that makes your skin feel so great, not the Bitter Almond. Our Anti Aging Face Serum, on the other hand, feels fabulous on your skin and does a superb job of moisturizing due to being made with Sweet Almond Oil.
FAQs
What is the difference between Sweet Almond Oil and Bitter Almond Oil?
Sweet almond oil is a fixed oil while bitter almond oil is considered an essential oil. Fixed oils are the carrier oils we use as a base oil whereas essential oils are extracts from plant material.
Fixed oils don't evaporate and are typically what you think of when you hear the word oil. Sweet almond oil is actually a vegetable oil. Essential oils can evaporate and are not really oil at all as they are the "essence" of the plant material from which they come. They are generally used for scent, flavor, and aromatherapy properties.
Where does Bitter Almond come from?
It comes from a tree but a different one from Sweet Almonds. Raw bitter almonds come from (Prunus dulcis, var. Amara) while Sweet Almonds come from ( Prunus Dulcis, var. Amygdalus) The sweet almond tree usually has white flowers while the bitter almond tree has pink flowers. Both the bitter almond trees as well the sweet almond trees are small deciduous trees growing between 4 – 10 meters in height and were originally native to an area in the middle east stretching from Pakistan west to Syria, Israel, and Turkey.
The bitter almonds produce a small quantity of fixed oil along with an emulsion that yields glucose, hydrogen cyanide (aka prussic acid) , and the essential oil of bitter almonds, which is nearly pure benzaldehyde.
Is Bitter Almond safe to use?
Bitter almond has been used historically in small amounts for flavoring in certain dishes such as almond syrup and the Italian amaretti.  However, due to its potential for toxicity, its use internally has been discontinued in the present day. This is why we use pure natural benzaldehyde in our almond-scented products so that they are completely safe.
I hope I have made clear the basic differences between them so you can better know which to choose, sweet almond, or bitter almond. If you have any more questions please post them in the comments below.
If you found this post helpful consider signing up for my newsletter!
Sources:
The Illustrated Encyclopedia of Essential Oils by Julia Lawless
Aromatherapy for the Beauty Therapist by Valerie Ann Worwood