Spring Skin Care Tips – transitioning from cold to warm
March 20th is the first day of Spring. Warmer weather is a welcome sight after winter but it brings its own set of skin care issues to deal with. We offer some tips and product suggestions to get your skin out of the winter blahs and ready for summer fun. Here are some of the season changes that can impact you and your skin.
Temperature swings from warm to cold to hot and back and forth can cause chapped skin and other issues.
With warmer weather you are going to be showing more toes and elbows.
Warm weather continues the need for chapstick and brings up the need for insect repellent.
So let's dive in:
Facial Care
World's Easiest Skin Care Routine
Good skin is easiest to achieve with a skin care routine that you can stick to. I have a super simple solution which is what I use myself. Cleanse and moisturize every morning and every night. I wash with our Carrot Seed Complexion Bar and then moisturize using our Antiaging Face Serum. Two steps and you're done!
If you feel that your complexion is getting a bit dull or needs a bit of a pick up you can add in our Face Scrub. You should only need to do this once a week at the most.
Lip Balm – Being out in the wind and sun can chap lips just as much as cold weather. We offer three different scents — Peppermint, Spearmint and Tea Tree.
Have you ever tried a natural shampoo? We offer them in both solid shampoo bars and liquid shampoo. Spring is not particularly hard on your hair but as you get into summer with swim and sun action that can be a bit tough. I feel that going natural whenever possible is best for your body plus the aromatherapy scents are awesome.
Solid Shampoo Bar — These are great for travel because you can carry them on a plane and they don't leak. ✈ You can also use one bar from head to toe. They are available in Bay Rum, Hill Country and Rosemary Mint.
Natural Liquid Shampoo — If you prefer a liquid shampoo, we've got you covered. We offer our liquid shampoo in Bay Rum, Lavender Rosemary and Rosemary Mint.
Dog Shampoo — We even have shampoo for your favorite pooch. 🐕 We call it Canine Creations and It too is available in both a bar and a liquid. We use a blend of lavender and lemongrass to be gentle on their skin yet helping to repel insects. (Sorry no cats allowed. Essential oils don't play well with their metabolism.)
Body Care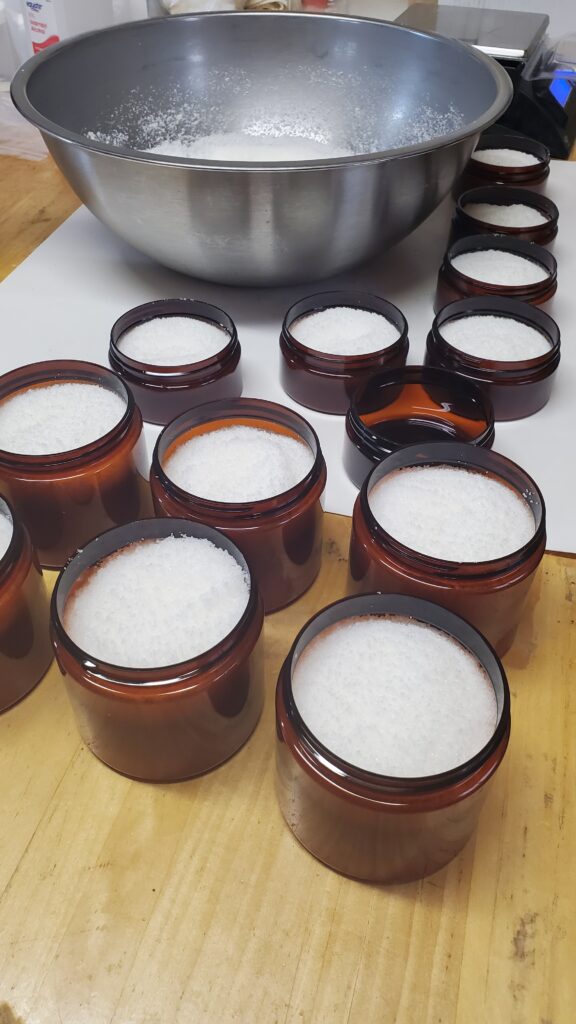 Getting skin all sleek and polished and ready to be seen again in sleeveless tops, shorts and sandals can be a bit of a challenge, but body scrubs and moisturizers smooth the way.
Body Scrubs — Body Scrubs are my favorite way to move my skin into the smooth and sleek category. We offer both salt and sugar versions in a variety of scents. Scrubs are also a great way to keep your feet and toes looking good enough to show off in those cute sandals you just bought!! 😉💚
Natural Body Oil – – You will need a moisturizer as well and for summer I suggest our Body Oil which is much lighter than the body butter or lotion bar. Pick your favorite scent and luxuriate!!
Natural Insect Repellent — Our insect repellent is in an oil base so you need to spritz it onto your skin and then rub in. We use a variety of different essential oils to ward off a variety of insects. It definitely helps, however, I don't claim that you will never get bothered by bugs again. 🦟 If you are looking for a natural option I would check it out.
Sunscreen — We don't make a sunscreen but with more outdoor exposure you need to protect your skin. Either actual sunscreen or with hats and clothing. Make the smart choice depending on your planned activities. 🏖 🌄
Final Words for Spring!
I hope these tips helped. The key point again is to cleanse, moisturize and protect your skin. Warmer weather takes us all outdoors which is great. More Vitamin D! 🌞 But regular maintenance is still key. You also need to keep your body moisturized from the inside out — ie. drink plenty of water as well as eat the right foods. Spring and summer are fun times to enjoy Mother Nature! Dive in and use these tips to look and feel your best while you do.
Other Posts You Might Enjoy
Let's talk about why self-care is crucial for happy skin. Taking great care of your skin goes beyond just looking good – it's about keeping your largest organ healthy and functioning properly. Did you know that your skin plays a vital role in protecting your muscles, bones, and internal organs? It's like a superhero cape…
Continue Reading Self Care for Happy Skin – 4 Reasons to Do it!