Wondering how to select the best moisturizer to make your dry skin happy? Yes, I make soap, but I also make a variety of moisturizers. Lots of people, including myself deal with dry and itchy or maybe just aging and not in a good way. Moisturizing can help with all of those issues and more.
I make three different types of body moisturizers, body oil, body butter and lotion bars. They all have different consistencies, melt points, uses and scents. I also make Face Serum which is a moisturizer for your face as well as Lip Balm for of course, your lips.
In this post I talk about how to choose the best one for you.
Selecting the right moisturizer starts with the ingredients.
Look for moisturizers with all natural ingredients created with vegetable oils. No mineral oils or petroleum products. You want something that will actually soak into your skin and be absorbed, not just sit on the surface. I use oils like safflower and almond and butters like shea and cocoa.
Pick the right consistency.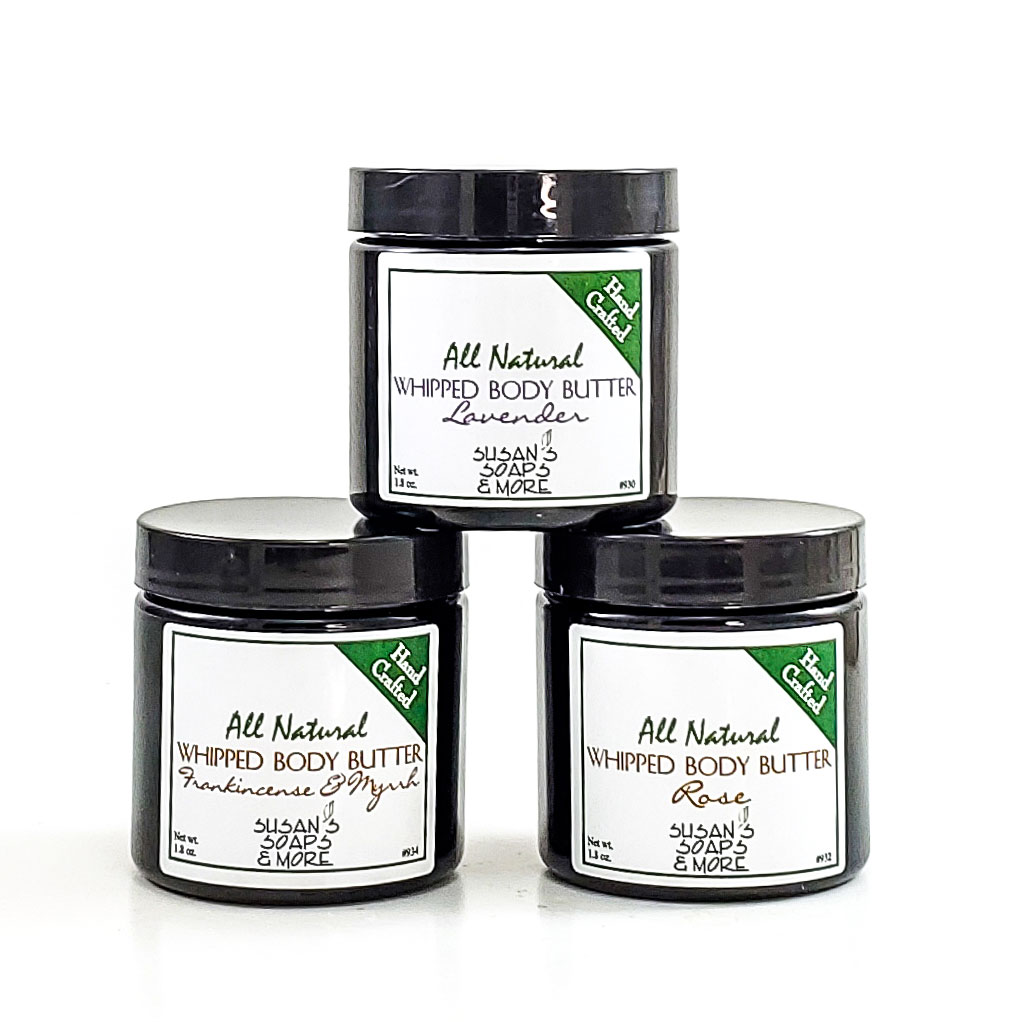 Body Moisturizers
The 3 body moisturizers I make each have a different consistency and are designed for different uses:
Face Moisturizers
Face Serums are my solution for a facial moisturizer. I make two different formulations; Anti-Aging and Susan's Own. I used Susan's Own to clear up my adult acne. After I turned 50, over 15 years ago, I switched to the Anti-Aging which I still use faithfully ever morning and evening.
The finishing touch for my moisturizing products are my Lip Balms. I make serveral different scents and two different sizes. Find your favorite. They are all great so it doesn't matter which one you choose. Just that you choose one you will actually use!
Choose the right melt point.
If you want to be able to carry your moisturizer with for work or travel then you need to consider the melt point and portability. Lotion Bars are designed to be able to be carried with you in your purse or pocket or even onto a plane. Body Oil is liquid and so it is subject to the possibility of leaking and of course is a no go to carry on a plane. My Body Butter can melt even in a really sunny window. In fact, I only make it and ship it during cool weather months.
Select the right moisturizer for your intended use.
For example, do you want something just to rub on your feet at night or an all over moisturizer for when you get out of the shower? Body Oil is best for an all over moisturizer. I generally reach for the Body Butter when I want something a bit heavier for my legs and feet, although I know some of my customers love it for their hands. Lotion Bars are really designed more for small areas like fingers, cuticles, elbows and feet.
Select the right scent to make you and your skin happy!
Start with something created using essential oils instead of fragrance oils and pick a scent you like! Then decide what benefits are most important to you.
Some aromatherapy benefits to consider:

Headache – peppermint
Stress – lavender, frankincense
Eczema – lavender, patchouli, rose, frankincense & myrrh
Insect Repellent – lemongrass, peppermint
Want to read more skin care tips?
Let's talk about why self-care is crucial for happy skin. Taking great care of your skin goes beyond just looking good – it's about keeping your largest organ healthy and functioning properly. Did you know that your skin plays a vital role in protecting your muscles, bones, and internal organs? It's like a superhero cape…
Continue Reading Self Care for Happy Skin – 4 Reasons to Do it!