Introducing another Susan's Soaps & More's weatherproof sticker – "Life Won't Sparkle Unless You Do!"  This little piece of positivity is more than just a sticker, it's a daily reminder to keep your spirit high and to always see the bright side, no matter what life throws your way.
Our sticker is not just inspiring, it's also visually stunning.  It features a vibrant color palette and a creative design that truly stands out. It's not only a beacon of positivity but also a piece of art that adds a pop of color wherever you stick it.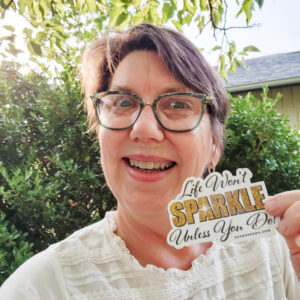 Pin
But this sticker isn't just about looks. Crafted with high-quality, weatherproof material, it's designed to withstand daily wear and tear. Whether it's on your laptop, water bottle, or planner, it'll stand up to the challenges of everyday life just like you do!
Plus, it's versatile. Use it to decorate your laptop to uplift your workdays, stick it on your water bottle for a positivity boost during workouts, or even add it to your planner as a constant reminder to stay resilient throughout the year.
So why wait? Add a dash of positivity to your everyday objects with our  "Life Won't Sparkle Unless You Do!" sticker and let it inspire you to face each day with a smile. Make every day a little brighter with Susan's Soaps & More.
Note:  Shipping cost for just a sticker (or stickers) is $5.00 shipped via USPS First Class.  However, if your order includes products other than stickers then our regular shipping charges will apply.
Size: 4″ x 2 1/2″