Introducing the amazing "You Glow Girl!" weatherproof sticker from Susan's Soaps & More! This little spark of positivity is not just any sticker – it's a daily reminder that you're vibrant, unstoppable, and absolutely glowing!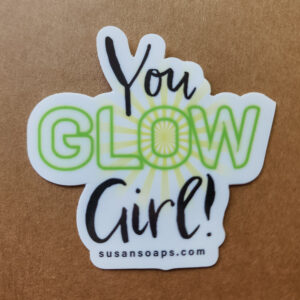 Pin
But wait, there's more! Our sticker is not only inspiring but also ridiculously fabulous and fun to behold. Featuring a vibrant color palette and a jaw-dropping design, it's a real showstopper. Stick it anywhere, and it instantly becomes a beacon of positivity and a piece of dazzling artwork that breathes life into even the dullest of spaces.
Oh, and did we mention durability? Crafted with top-notch, weatherproof material, this sticker can handle anything life throws at it. Whether it's slapped
on your trusty laptop, your go-to water bottle, or your trusty planner, it's as tough as you are, effortlessly withstanding all the challenges of daily life.
But wait, there's more! This versatile sticker is a multitasking wizard. It's perfect for jazzing up your laptop and injecting some serious inspiration into your workdays. Stick it proudly on your water bottle for an instant burst of positivity during workouts. And for an entire year of resilience and motivation, let it grace the pages of your planner, serving as a constant reminder to stay strong every day.
So why wait? Sprinkle a dash of positivity onto your everyday objects with our incredible "You Glow Girl!" sticker. Let its magic inspire you to face each day with a beaming smile. Embrace the brightness in life with Susan's Soaps & More – where every day is a little bit brighter. Order yours now!
Note:  Shipping cost for just a sticker (or stickers) is $5.00 shipped via USPS First Class.  However, if your order includes products other than stickers then our regular shipping charges will apply.
Size: 3″ x 2 1/2″