Introducing It's Like Dessert on My Skin! Sticker – it should be the latest addition to your fabulously fun sticker collection.   What no, sticker collection?  Then this is a great one to start with!  Don't worry about your new sticker getting ruined as it is water proof and weatherproof.
This cute and vibrant sticker is so much more than a decoration.  It brings with it an inspiring reminder of what you need every day—self-care!  This (perhaps literal) sticky note will help you make time for self-care, wherever your day may take you.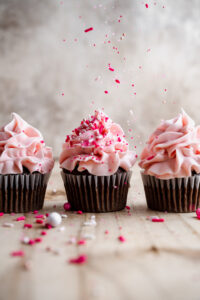 Pin
Affix it on:
Your Water Bottle or Beverage Mug
Back of your Phone
Top of Your Laptop
Anywhere you want!  Remember it's a water proof and weatherproof sticker.
Be reminded that taking care of yourself should always come first.  And it didn't just come out of nowhere—it was inspired by a special comment someone made about our Bodacious Body Oil.
So, get ready for the other kind of sweet treat – one that will boost your natural beauty – and stick our It's Like Dessert on My Skin! Sticker somewhere today.
NOTE:  Shipping cost for just a sticker (or stickers) is $5.00 shipped via USPS First Class.  However, if your order includes products other than stickers then our regular shipping charges will apply.
Size:  2 1/8″ X 2 1/8″