Jetsetter Skin Care: Your Passport to Healthy Skin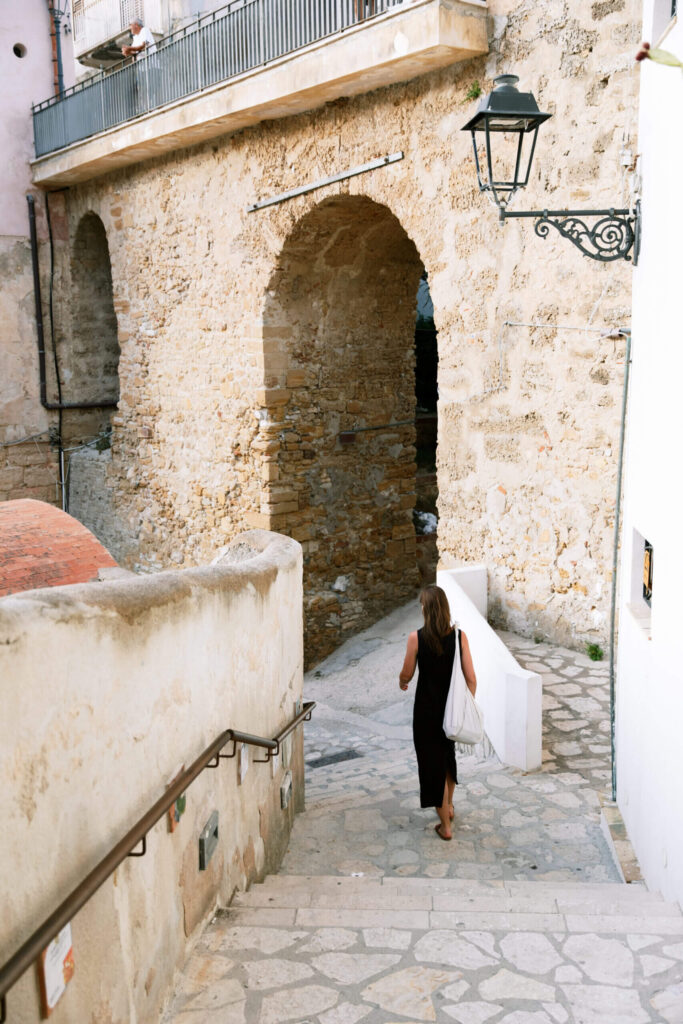 Hey, globetrotters! I know you love to explore, so do I. I absolutely love to travel!! But I don't want my skin to suffer in the rush of catching flights and ticking off bucket list destinations. Travel throws a few curveballs at your skin – think dry airplane air and changes in water quality, your routine, temps, humidity and more!
No matter if you are sitting in some gorgeous european cafe or at the beach, on the slopes or deep in a forest change can be hard on your skin.
But don't fret, we've got your back (and face, and hair) with our travel-friendly skin care essentials. And most of them you can carry on a plane with you if needed!
Travel can be Tough on Your Skin
Taking care of your skin while traveling is essential, as the changing environments and conditions can have a negative impact on your skin. Air travel, in particular, can leave your skin feeling dry and dehydrated. Additionally, different water types in new locations can disrupt the balance of your skin, leading to breakouts or irritation. Whether you're exploring bustling cities or enjoying the tranquility of nature, it's important to prioritize skincare and ensure that you can protect and nourish your skin in any environment.
Your Travel Beauty Kit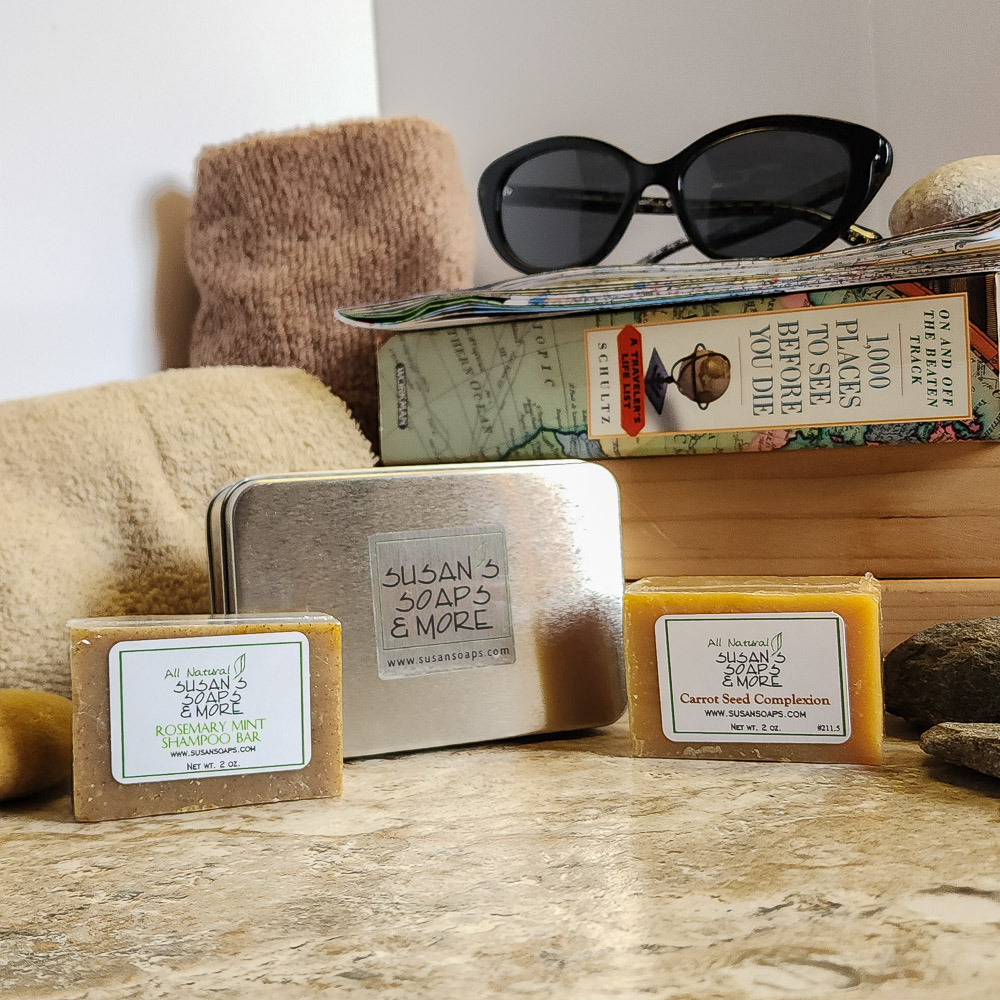 To tackle these pesky problems, I am sharing the products I use when traveling. They're like a first-class ticket for your skin! These first 3 products you can take with you when traveling on a plane in your carry on bag. The 4th you would need to repackage in a small travel container.
1. Travel Soap Case: You can purchase either just the travel tin or get it already prefilled with a half bar of our Carrot Seed Complexion Soap and a half bar of your choice of solid shampoo. This dynamic duo cleanses your hair and face while on the go. With carrot seed oil on board, expect a rejuvenated, youthful glow.
2. Lip Balm: Our lip balm is like a comfort blanket for your lips, providing lasting hydration even in extreme weather conditions. It is available in 3 scents; Peppermint, Spearmint and Tea Tree.
3. Face Serum: Anti-aging Face Serum is like a power-packed vitamin cocktail for your skin, keeping your complexion radiant no matter where you are. It is full of anti-oxidants and nourishing skin ingredients including evening primrose oil and frankincense and carrot seed essential oils. This is the only facial moisturizer I use and I apply both morning and evening after cleansing every day.
4. Body Oil: For those with dry skin, our body oil is a hydration hero, locking in moisture for a soft, dewy finish.
A Little Help Getting There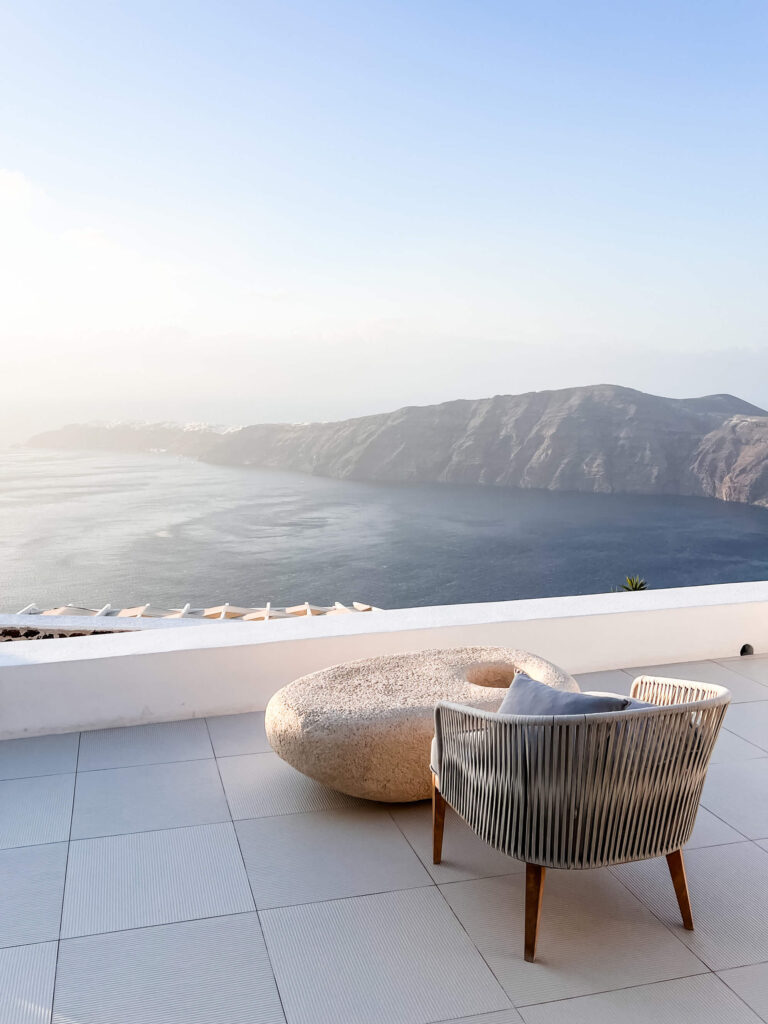 There is a saying that getting there is "half the fun." But half the fun of getting there can take take some funds, unless your idea of travel is simply heading down the road and then pitching your tent whereever the mood strikes you. Summers can brutally hot in Texas and I used to dream about being able to fly further north and escape the heat for at least a bit. Unfortunately, that's about all I did until I got serious about using travel reward programs.
Since then Jerry and I have been to Europe 3 times on points for both airfare and hotel stays as well as multiple domestic trips. Yes, managing the credit cards and rewards programs takes time. However, if you're like me, love to travel, but have a limited budget, it's worth it!
If this sounds of interest to you here is my short list of travel tips to make it happen:
Only join the awards programs you will actually use and make sense for you. For example I live near Dallas, so having airline points with both Southwest and American Airlines makes sense because they both have hubs here. Even though traveling to Hawaii may be where you want to go, it probably doesn't make sense to collect points on Hawaiian Airlines because you won't be able to use them as much.
Signing up for the best credit card deals for your selected programs will get you the most miles the quickest. BUT, make sure you can meet the requirements for the bonus miles, that you will pay off that credit card charge EVERY month and not carry a balance AND that you are selective about which credit cards you apply for. For example Chase has a lot of credit cards with great travel benefits but they will only approve a certain number for you.
One of my favorite bloggers on how to earn and maximize travel awards is the Points Guy. He has informative posts about just about any type of travel award program you can think of and he keeps his information very up to date.
I hope that helps a little bit. Leave me a comment below your favorite way to get to your get away destinations.
Packing and Using Your Products: Travel Light, Travel Right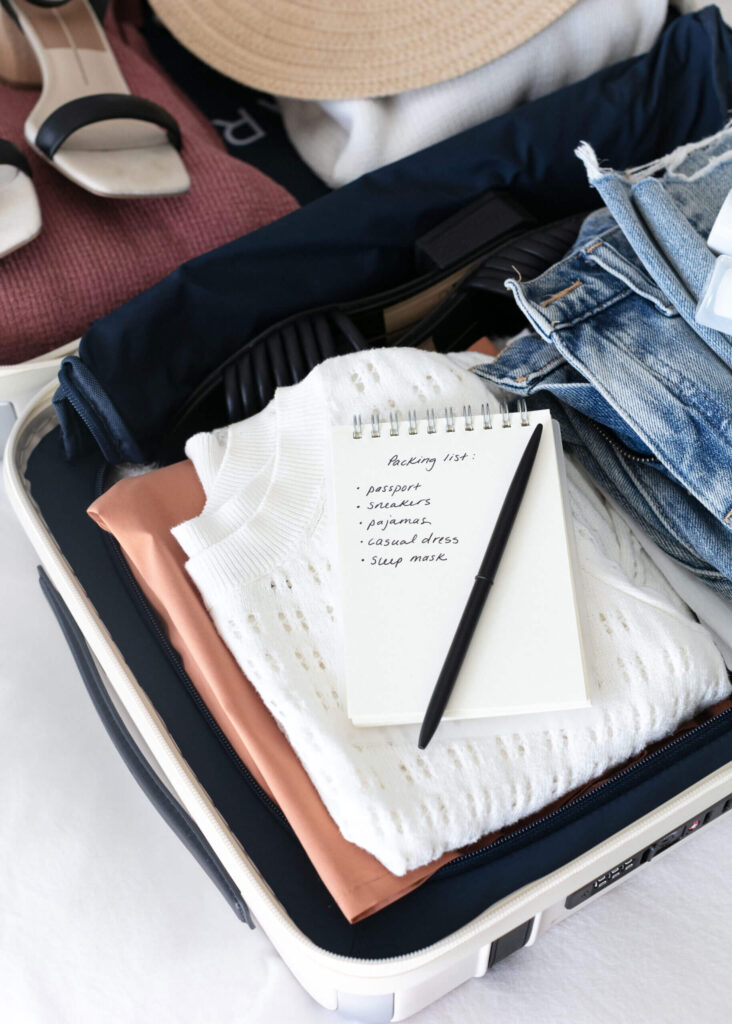 When it comes to packing, think minimalist. Use small travel containers or decant larger products into smaller bottles. Also, remember to tweak your skincare routine according to your destination. Also, remember to tweak your skincare routine according to your destination.
Heading somewhere sunny? Make sure to pack the sunscreen. I don't make a sunscreen, but if you are wanting to stay as natural as possible conside titanium dioxide. If you are going to be in the great outdoors consider an insect repellent. I do make an all natural one: Bugs Away. And if you wanting to go really light, you could even use it as your body oil.
Natural Remedies and Extra Skincare Tips
Don't forget about nature's own remedies – hydrate, munch on antioxidant-rich foods, and catch plenty of zzz's to keep your skin looking its best. After all, skincare isn't just skin-deep.
So, fellow wanderers, don't let travel be a speed bump on your journey to glowing skin. With a little prep and the right products, you can conquer the world and still look fabulous doing it. Bon voyage and happy skincare!
Happy travels! 🌏🛫✈️👋🏼💕😊
More Posts You Might Like
Let's talk about why self-care is crucial for happy skin. Taking great care of your skin goes beyond just looking good – it's about keeping your largest organ healthy and functioning properly. Did you know that your skin plays a vital role in protecting your muscles, bones, and internal organs? It's like a superhero cape…
Continue Reading Self Care for Happy Skin – 4 Reasons to Do it!
I have been talking about self care, along with healthy habits quite a bit recently in my blog posts. It has primarily been in general terms, but today I wanted to share more from a personal level. A simple flight of steps was difficult. Somewhere around 7 or so years ago, it had gotten to…
Continue Reading Self Care is Essential & Can Be Life Changing. My Story!