Lemongrass  Natural Soap  – fresh, clean scent that also repels insects!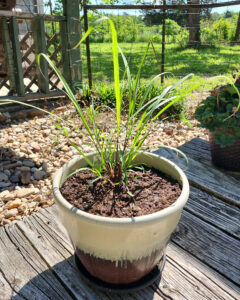 Pin
Our Lemongrass Soap combines lemongrass essential oil with litsea and cedarwood for a fresh clean scent.  Cornmeal was added to help gently scrub your hands clean or to exfoliate your body. This bar was first designed as a gardener's soap because of its scrubbing action and the fresh herbal scent but we renamed it years ago to let our customers better understand how it smells. 
Because it is handmade (as all of our products are) all of the glycerin stays in the bar which means that it won't leave your skin dry and itchy.  All in all, our lemongrass soap is a great hardworking bar that feels great and smells wonderful.
Why buy this soap:
Fresh, clean scent in a gently exfoliating bar
Lemongrass helps to repel insects
Vegan, created with no animal fats, honey or milk products added.
Want more lemongrass?
You can find it in the following products: Body Oil, Lotion Bars, and Sugar Scrubs. 
Ingredients:  soybean oil, water, rice bran oil, coconut oil, sodium hydroxide (lye), cornmeal, lemongrass essential oil, texas cedarwood essential oil, litsea essential oil.  Net wt. 4 oz.