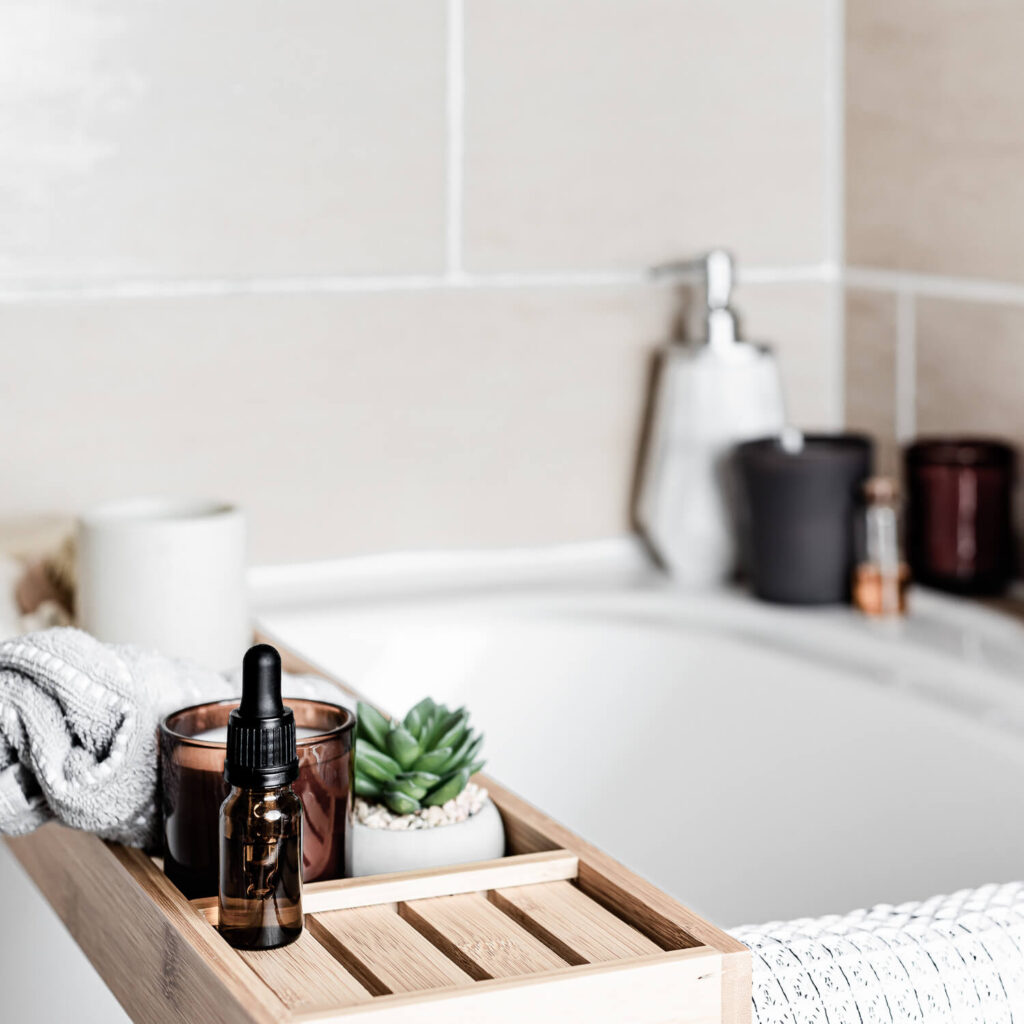 Whether you are looking for a sure-to-be-appreciated gift or a way to indulge yourself our at-home spa ideas are sure to check the boxes.
With these fabulous affordable ideas, you can have a spa day at home that's just as relaxing as if you were at a professional spa. So put on some relaxing music, light some candles, and hang that fluffy bathrobe where you can reach it.
Now prepare for either that someone special or yourself to be pampered with an ultimate at-home spa day!
Bath Time At Home
Start with a relaxing bath! I think taking a bath is everyone's idea of spoiling yourself. They take more time than a shower. You get to soak in water and you surround yourself with all kinds of extras! Add some bath salts or Epsom salts into the water to help with sore muscles. Put a few drops of your favorite essential oil in a refreshing scent.
Decadent Soaps for Dry Skin
If you are taking a bath you will need some soap. While perhaps not as sexy as some of our other spa day ideas, we have a few options that I think you'll find worth a look.
Our Frankincense & Myrrh Soap is a customer favorite and doesn't dry out your skin as some soaps can. We also have a wonderful Rose Milk Soap or if you are looking for something unscented consider our Milk & Honey Soap.
Our soaps like everything else we make are created with natural ingredients. We use vegetable oils like rice bran and coconut oil with pure essential oils for scent. We use no animal fats and no artificial colorants, fragrances or preservatives. We also do no animal testing.
Body Scrubs are a Must for Your DIY Spa Day
A scrub is probably my very favorite spa day at home item. We offer them in both salt and sugar. Our sea salt scrubs are actually a finer grit in the scrub than our turbinado sugar scrubs and we don't duplicate the scents.
If you aren't familiar with salt or sugar scrubs they offer full body exfoliation and moisturizing all in one step.
After you after soaped and rinsed scoop out a bit of your chosen body scrub and gently massage over your skin. This will slough off dead skin cells and leave your skin feeling super soft. Exfoliating also helps to improve blood circulation.
The oil is right there to help moisturize dry skin and is part of this ultimate self-care spa treatment.
Hair Care Time
We also have some options for hair as well. We can't forget your crowning glory and we have options for you both in solid shampoo bars or more traditional bottled shampoo.
In solid bars we have:
Bay Rum
Hill Country
Rosemary Mint
In bottled shampoo we have:
Bay Rum
Eucalyptus & Tea Tree
Lavender Rosemary
Rosemary Mint
After the Bath Home Spa Treatments
Once you are out of the bath, it is time to continue the at-home spa day with some fabulous choices in moisturizers.
We have two different categories of Body Oils as well as our Lotion Bars.
Natural Body Oils in Almond, Frankincense & Myrrh, Lavender Sage, Lemongrass, and Unscented
Quintessential Body Oils in Carnation, Jasmine, Rose, and Yuzu
Lotion Bars in Almond, Lavender, Lemongrass, Patchouli, and Peppermint
Use the Natural Body Oils right after you get out of the bath or shower. Try the QBOs as more of a special treat for your skin or maybe a special DIY spa night. (I reach for the Rose QBO if I am having trouble sleeping in the middle of the night. I use the Jasmine for my catarrh.)
The lotion bars are solid moisturizers that are portable enough to carry with you in your purse or pocket. They are great on hands, elbows, and feet. Some customers like to use them as a cuticle cream. My favorite way is to rub on my feet at night and then cover them with socks. In the morning pure feet bliss!
At-Home Facial Care
Once you have your body feeling soft and smooth it's time to move onto your face. We have a simple skincare routine to get you that hello glow.
Choose Your Favorite Spa Treatment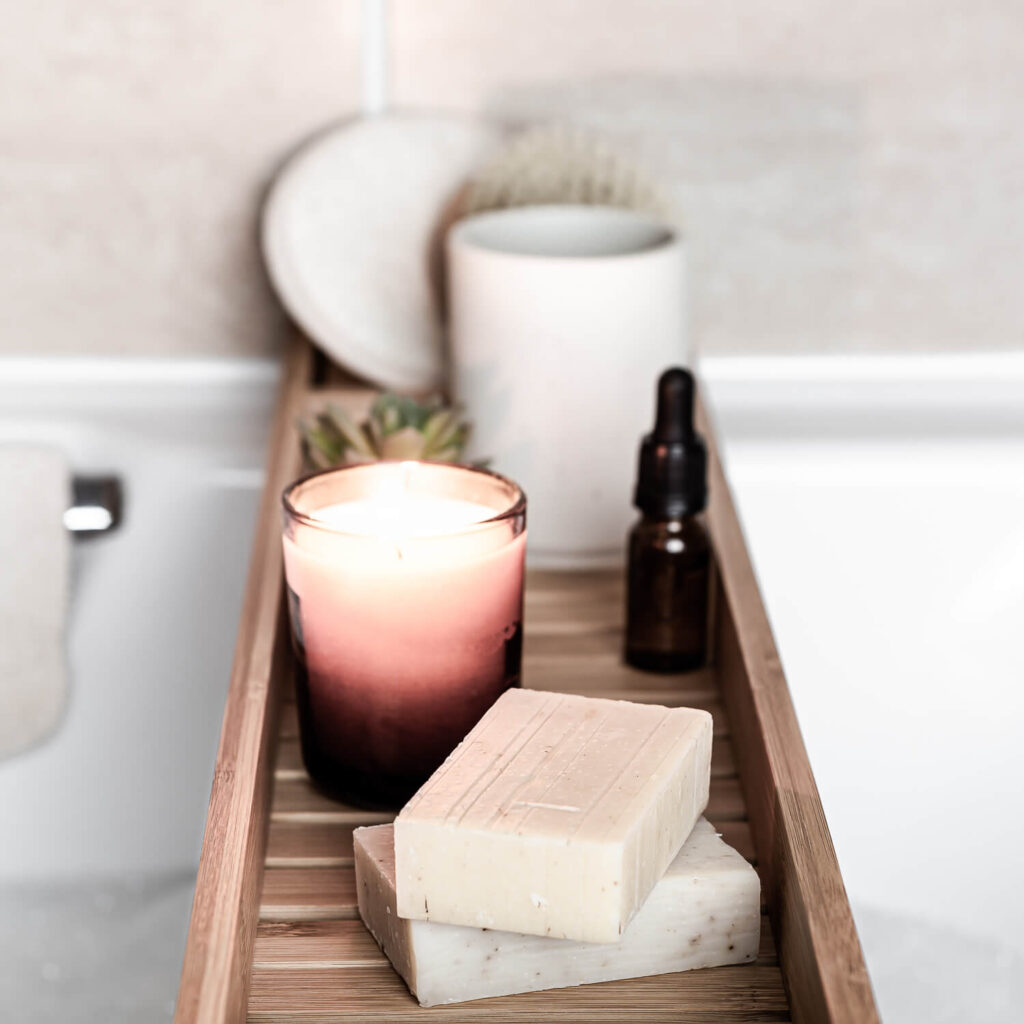 Choosing the spa treatments that work best for you is part of the best part of a DIY spa day. I hope these DIY spa ideas have given you some self-care ideas for either you or the person you are shopping for to be able to use right in their own home.
Pick the products or treatments that will work best for you or the person you are picking a gift for. Keep in mind favorite scents, skin type and self care routines to guide you in making the best choices.
Here are just a few more home ideas for creating your own personal oasis:
Feeling tired at the end of the day? Indulge in a spa night for a wonderful pick-me-up.
Try using an essential oil diffuser for both the soothing scent and immune-boosting properties.
Make yourself a cup of green tea and soak in a foot bath
Try a jade roller to improve blood flow
For more ideas to create your own relaxing day sign up for our newsletter or take our quiz to find your best essential oil!
Looking for more skincare tips check out these blog posts: